What are the differences between a landing page and sign up form?
Within your AWeber account, you can create sign up forms and landing pages. Although both features are similar, there are some distinctions between them that make them better suited for different purposes.
Sign Up Forms
A sign up form is essentially an element within a web page that allows visitors to the page to subscribe to your AWeber list. In the AWeber form generator, you can add different design elements to your form like text and images, but the form is limited in size.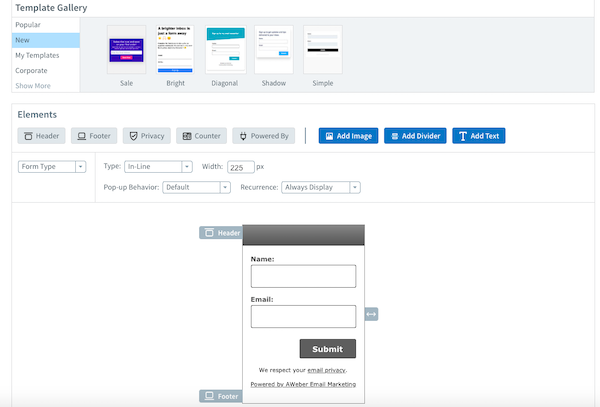 Because a regular sign up form is dedicated to building a list, the formatting options for custom fields are a little more robust. You can add checkboxes, drop-down menus, radio buttons, and textboxes.

We provide the HTML and Javascript code of your form so you can embed this on your website. You can also use the form as a landing page through the hosted URL. This URL will take visitors to a web page that displays the form in the top-center. You cannot customize this web page or the URL for the page as this is hosted through AWeber. This functions similarly to a landing page in that it is a standalone web page, but is not fully functional landing page.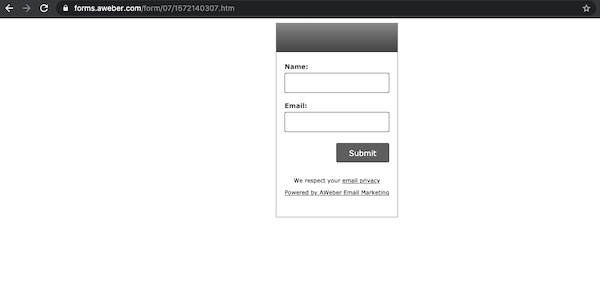 Landing Pages
On the other hand, landing pages are their own, fully functional web pages. You can connect your landing page to your custom domain (like yourbusiness.com) so that when people enter your domain in the URL bar of their browser, they are directed to the page.

Landing pages can contain sign up forms, but they don't have to. Landing pages can contain a lot of information, and you can link them to other pages through the sign up form's thank you page or through buttons and hyperlinks. Beyond using them to build your email list, you can also use them to sell products, embed content from the web, or just provide more information about your business.

Because landing pages are a bit more functional, the landing page editor offers a range of elements to customize them. The landing page editor functions a lot like the Drag & Drop Email Builder. We also provide a range of templates that help cater to your needs and what you want to accomplish with the page.