Landing Pages are a great way to grow your list. They can provide potential subscribers with information about your business, the products that you sell, and the content that you send out through your mailing list.
Etsy's guidelines allow you to add outside links to your About page, as well as in a shop announcement, and in this article we will show you how to do this.
Step By Step Instructions
1. Create a landing page in your AWeber account and publish it. Customize the URL for that page, and then copy the URL.





2. Log into your Etsy account and click on the Shop Manager icon.





3. Click the "Edit Profile" button with a pencil icon next to your shop name.


4. Scroll down to the About section, and add the URL for your landing page in this section.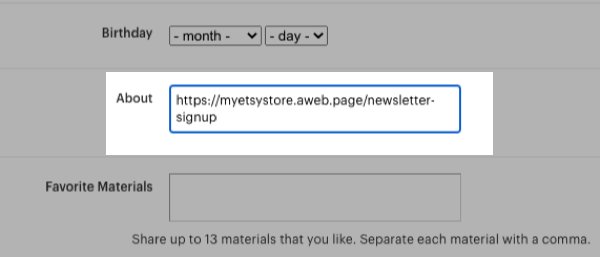 Shoppers can find your About section by clicking the About link near the top of your shop homepage or by scrolling down your shop homepage.
Shop Announcements
You can also add your landing page URL to a shop announcement. Your shop announcement appears under the listings on your shop homepage. You can use your announcement to alert shoppers to important information, or invite them to join your mailing list.
To add or edit a shop announcement, click the pencil icon next to your shop name on the Shop Manager page. Scroll down to the Announcement section and click "Add a shop announcement" to create a new announcement or "Edit" to edit an existing announcement.



After writing your announcement, click "Save" to save the announcement to your Etsy shop.

Note: Links in a shop announcement will not be clickable.