What should I write in my Thank You page?
By default, our sign up form tool will send your subscribers to a basic thank you page.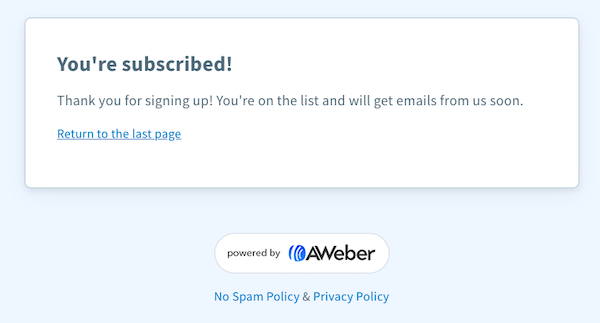 The default page cannot be customized, but you can add your own thank you page from your website. If you don't have a website, you can use AWeber's landing page editor to create one! We have a "Thank You Page" template that makes it quick and easy to create one. The default thank you page provides your potential subscribers with the right information, but using a customized thank you page has a few major benefits:
If confirmed opt-in is enabled you can let subscribers exactly what they need to do in order to move forward with the confirmation process.
You have the opportunity for branding the page to match your existing website.
Subscribers won't leave your website. AWeber's thank you pages are hosted internally.
What you write on your thank you page will depend upon whether or not you're using our confirmed opt-in feature.
Using Confirmed Opt-in
To help get a better confirmation rate, your thank you page needs to make it perfectly clear what your subscribers need to do in order to complete the process of joining your list. We always suggest a simple and direct thank you page.
Here's some examples of what you might want to include:
Your from name and address
The confirmation message subject line
A sincere thank you for signing up
A screenshot of what the message looks like in their inbox

You can set the from name and address in the List Settings section of your account. The subject of the message is set when you customize your confirmation message.
Suggest Safelisting
Safelisting is a term used in the industry and means asking subscribers to add your email address to their address books. Having your messages reach your subscribers inbox is very important to your campaign. By having your subscribers safelist you in their own email accounts, you can ensure that your messages will be more likely to reach their inbox.
Not Using Confirmed Opt-in
If you aren't using confirmed opt-in, the thank page should let your subscribers know that they've successfully joined your list. You can also use this page to direct subscriber to an ebook or whitepaper they signed up to receive. That can be done by setting a custom thank you page as well.
When you're bypassing the confirmation requirement in your list you have a bit more freedom regarding the information you can provide on this thank you page.