Sign up forms are a great way to build a list of responsive subscribers. Having people visit your website is great, and from there it's worthwhile to convert them into subscribers through your sign up process.
How Can I Change the Design of My Form?
Within the "Sign Up Form Generator", you are able to change the design of your sign up form to reflect the stylish look you wanted to publish. To begin the process, choose a template for your sign up form. Click the "Show More" option to bring up a menu of different categories.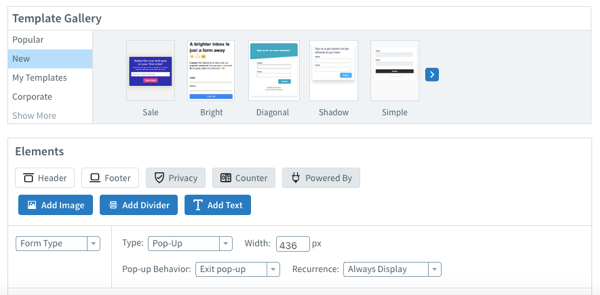 You can browse through the templates to find a sign up form template that matches your website design and theme. Simply click the template you want to use and load it into the generator. You can change settings of the sign up form through the options provided in the "Sign Up Form Generator."

For more information about changing the design, please visit the following:
How Do I Add a Form to My Website?
Once your sign up form is designed to your liking, you may add the form to your website. Follow through the completion steps provided in the sign up form generator until you reach the "Publish" section. In the "Publish" section, you will be provided with three options for "Who Will Publish This Form To Your Website?". Click the option that best suites your needs and we will provide either the coding of the form, the email to send to your designer, or the URL of the hosted form. Each option depends on the selection you choose.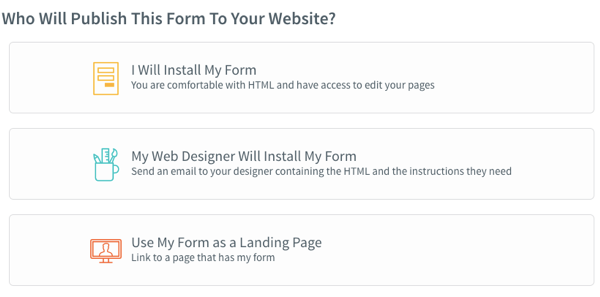 For more information about adding a form to your website, please visit the following:
How Do I Split Test My Sign Up Forms?
Split testing your sign up forms is a great way for you to determine which one of your sign up forms produces the best opt-ins to your list. This can be useful information for growing your list of subscribers! To split test your sign up forms, you will need to click on the option for "Split Testing Your Sign Up Forms" on the Sign Up Forms page.





For more information about split testing your sign up forms, please visit the following: