How can I change my credit card?
The easiest way to update your billing information is directly in your account!
Updating your card online
You can use this direct link to your Billing Center or follow the directions below.
In your AWeber account, click on the account settings icon in the bottom-left corner of your control panel and click "My Account."





From the left hand side of the page, select "Billing."





Click the button to "Add a credit card."





Enter your card details in the form that appears. While adding the card, choose "Make this my primary card" at the top if you would like this card to replace the card you currently have on file. Only select "Make this my backup card" if you want to leave the card you currently have on file as the primary (the primary card is always billed first - the secondary card is billed only if the primary card is declined).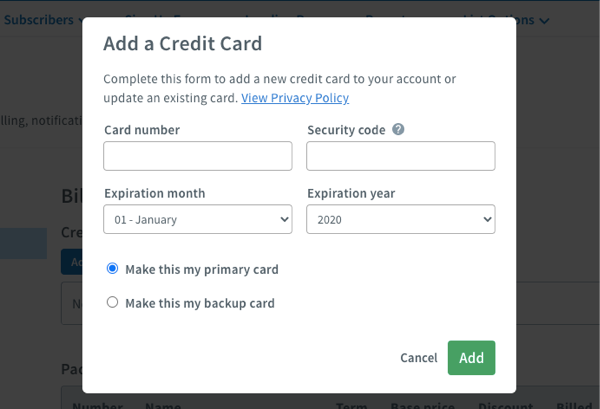 When you're done, click the "Add" button to save the new card.
Updating your card over the phone
Alternatively, connect with the Customer Solutions Team to securely update your card information over the phone.
Toll Free(USA): 877-AWEBER-1
International: (+1) 215-825-2196