How do I navigate and modify my list?
After creating a list in AWeber, take some time to optimize your list! Take advantage of our resources as we cover navigating and modifying different areas within your AWeber list.


Setting up your first list will be a bit different than the steps covered here. For more information on setting up your first list, click here. Read through the article for details on how you can navigate your list once created.


Basic Settings
Locate List Options from the navigation bar and choose List Settings from the submenu. Under the Basic Settings section, enter a list name and list description.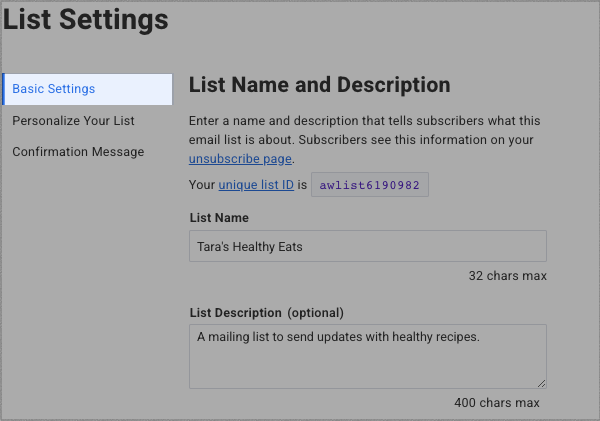 Continue to enter the "From" name and email address that you would like subscribers to see when they receive emails from you.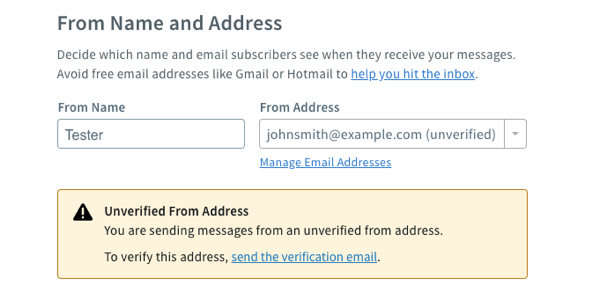 Click the "Save All Settings" button at the bottom.


Personalize Your List
Move to the Personalize Your List section of the List Settings by clicking on the Personalize Your List icon from the left-hand side of the page. While competing this section is not required, we definitely recommend filling out as much as you can.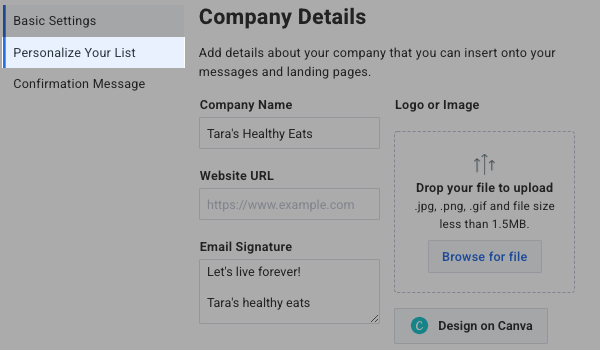 Under the Company Details section enter the name of the company or program that the campaign will be associated with and enter your website URL that you would like associated with this campaign.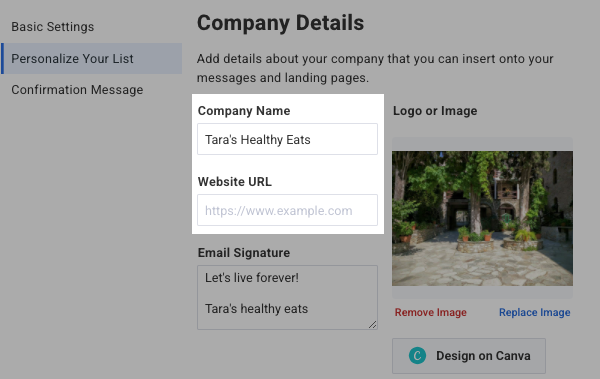 Next, enter the signature that you would like to use for your messages that you send out.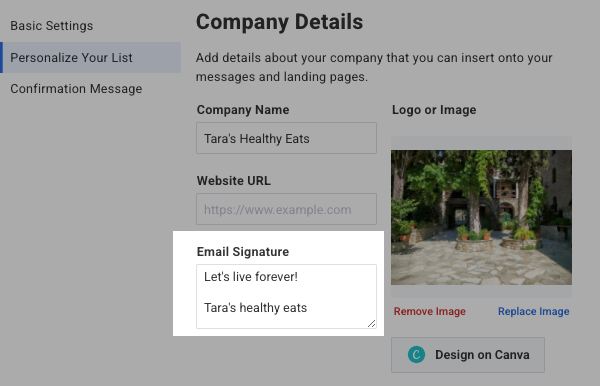 If you have a company logo that you would like associated with your content, upload it here to assist in establishing your brand! Don't have a logo? Design one on Canva for free!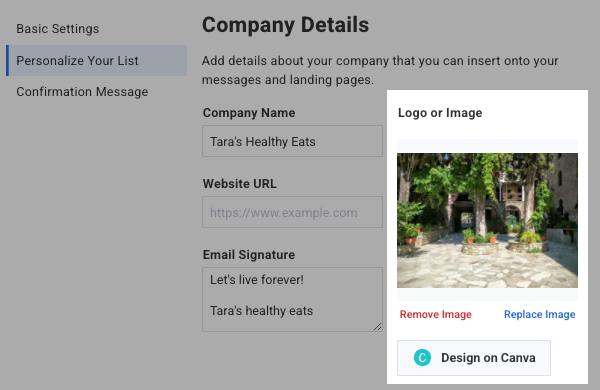 Note: The company logo will keep it's size when you upload it. So if your logo is too large, you may want to resize it before uploading it. We recommend using a logo width of 600px.
In the Social Media Sharing section, you can connect any Twitter or Facebook accounts you might want to integrate with at a later point.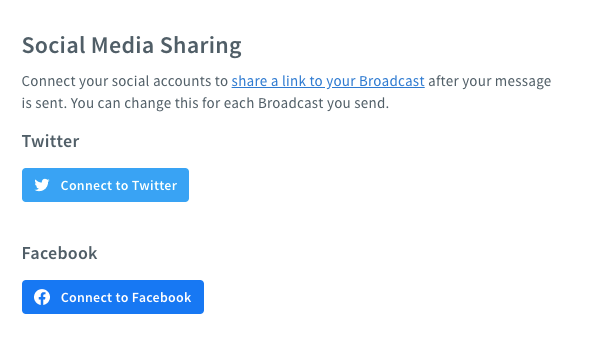 Click the "Save All Settings" button again.


Confirmation Message
Move to the Confirmation Message section of the List Settings by clicking on the Confirmation Message icon at left hand side of the page.





Here you be able to edit the confirmation message that your subscribers are sent after they sign up to your mailing list. You will be able to edit the subject line, header, and signature of the confirmation message.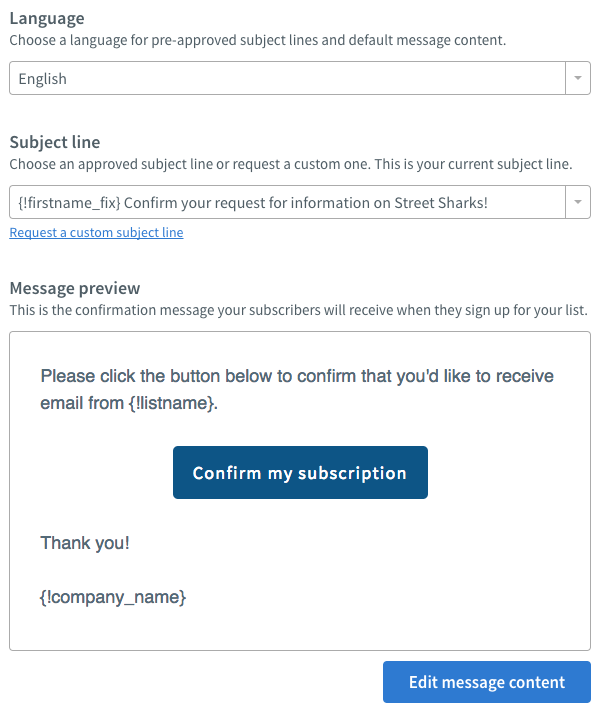 Once you are done editing your confirmation click the "Save All Settings" button at the bottom of the page.
Campaigns
Next, you will want to create your welcome message and autoresponder. To get started, locate the Messages tab and click Drafts from the menu options.




Click "Create a Message" to start using the Drag & Drop Email Builder and customizing your welcome message.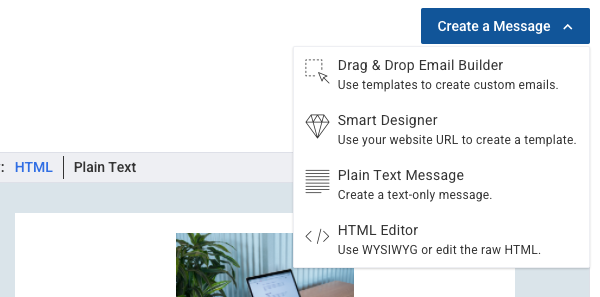 After you create a message, it will be stored in your draft folder. You can add it to a Campaign. Campaigns are AWeber's autoresponder feature. Campaign messages will send out automatically at the intervals that you set up. You set a campaign to trigger automatically for all subscribers when they are subscribed or when a certain tag is applied. To create a campaign, find Campaigns under the the Automations tab in the navigation bar.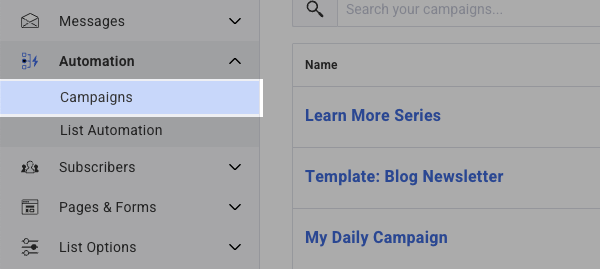 Then, click "Create Campaign."





For more information on creating a Campaign, check out our article below:
Sign Up Forms
Create your sign up form to collect subscribers from your website. Click on the Sign Up Forms tab in your account. On this page, click the blue "Create A Sign Up Form" button.





This will then take you to the Sign Up Form Generator where you can customize the design of your form using our templates and adding your own elements.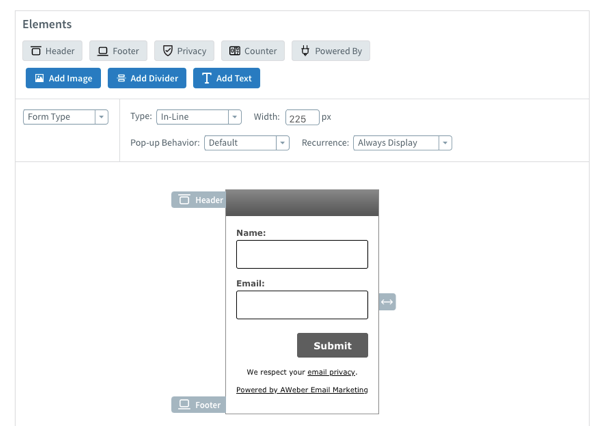 After you publish the sign up form to your website, sign yourself up to your list, just as your subscribers will, and test the entire process. If necessary, make any changes to your sign up form in the sign up form generator.
Frequently Asked Questions when Getting Started
Our Knowledge Base is filled with information on using AWeber. Here are some of the most common questions we receive from our users when they're first getting started:
Contact us!
If you need any assistance or have any questions, don't hesitate to connect with one of our email experts. Our Customer Solutions team is standing by to help.
Phone
Available Monday - Friday from 8:00AM - 8:00PM ET
Toll Free (Within USA): 1-877-293-2371
International: +001 215-825-2196
Note: Saturday to Sunday we are available for Live Chat and Email support.


Ticket Support
Available 24 hours a day, 7 days a week.

Online Live Chat
Monday - Friday 7:00AM ET - 10:00PM ET
Saturday 8:00AM ET to 5:00PM ET
Sunday 8:00AM ET to 5:00PM ET