AWeber makes setting up your mailing list easy! We also have free resources like Launchpad, which includes great tips for content ideas, new ways to grow your list, and more!
After you create your account, AWeber will send you a link to create your password and login. When you first login to your account, a window will pop over the page for you to enter details about your company and create your first list. To start, enter the name of your company or program that you are marketing. Then, enter your company's website.





If you don't have a website just yet, that's OK. Select "No, I don't have a website" to continue.





After you enter your company details, you'll need to enter your "Contact Address." Enter the postal address that is associated with your business. A valid postal address is required by the CAN-SPAM Act and this address will automatically appear at the bottom of any messages that you send out.





When you are done entering the address, you can customize your "from" name. Your "reply to" email address will be your login email by default, but you can change this after the list set up is complete. The "from" name and email address will show as the sender when subscribers receive your messages. If you're not sure what address to use, here's a bit more information. Once you're done, click the "Next" button.





The next step is to name and describe your list. On this page, enter your "List Name." Your "List Name" can be up to 32 characters in length and it is not something that subscribers will see. The "List Name" is mainly for your benefit so you can identify which list you are working on within in your account.





After you enter your "List Name," you will need to enter a "List Description." Here is where you will describe the kind of information you'll be sending from this list. There is a 400 character limit for the "List Description." Subscribers will see your "List Description" on the unsubscribe page if they ever go to unsubscribe from your list. Once you are done entering your "List Description," click the "Next" button.





On the last page you will be prompted to edit the confirmation message that is sent to subscribers when they sign up. This email is sent to subscribers to gain their permission and show that they want to receive information from you. Even if you do not plan on using a confirmation message, you will still need to set it up.
First, you can select a language for the confirmation message. To do so, use the "Language" drop-down menu.





Then, you can adjust the confirmation message subject line. Click on the drop-down menu to select from one of our pre-approved options.





If you do not wish to use one of our pre-approved subject lines, you can always type in your own subject line. Just click on the "Request a custom subject line" link.





A custom subject line must tell subscribers who you are, explain why they are receiving the confirmation message, and walk through what they need to do with this message.





You can also choose to personalize the subject line with information captured from the subscriber by using the "Personalize" drop-down menu. In the example below, we have chosen to personalize our subject line with the subscriber's first name.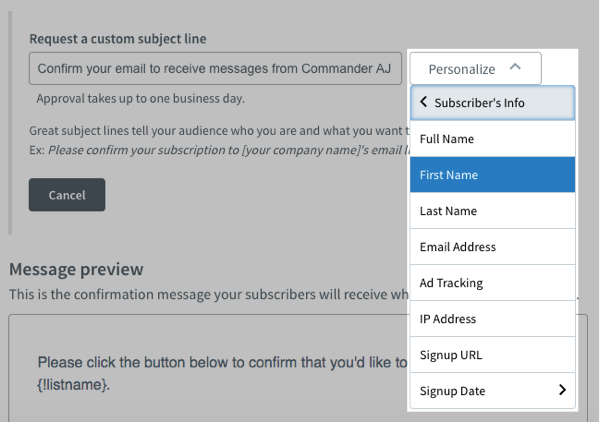 After you have selected your confirmation message subject line, you can edit the confirmation message itself. You can hover over the message or click on the "Edit message content" button to edit the introduction or the signature of the confirmation message.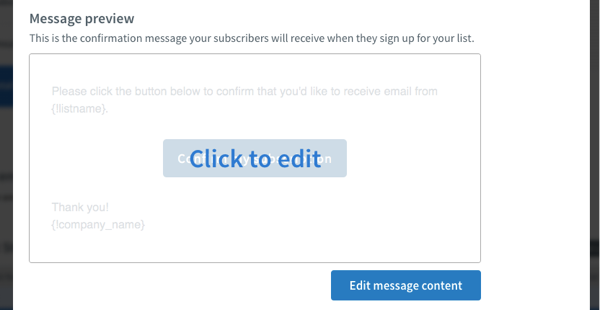 Then, you can edit the text of the header and signature. You can also select between a few options for the text of the confirm button.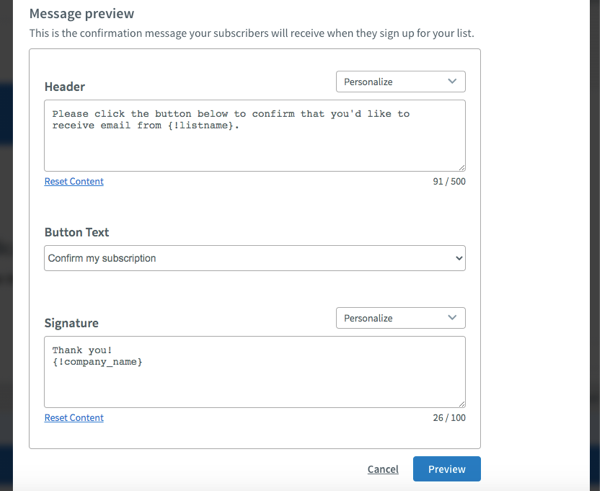 Once you are done editing your confirmation message content, click the "Complete setup" button.





Congratulations! You have completed setting up the basic settings needed to get started with your mailing list. There are more options and features you can use with your list that aren't included in the list set up. Navigating through your list will help you in setting up those features that best meet your needs.
What are my next steps?
Where there are many paths you can go down next depending on your marketing goals, some good next steps would be to take the following actions:
Finally, don't forget to check out Launchpad to learn more getting started with email marketing.