After you submit an import it may go through a manual review process on our end. The review is done in order to check the quality of the subscriber list that is submitted. Checking the status of your import is easy and is done right from within your account!

All you need to do is hover your mouse over the "Subscribers" tab and click on "Import History" from the drop down menu.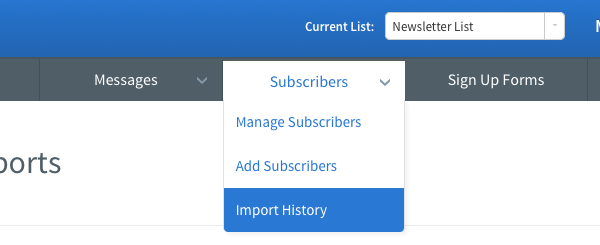 You will then be taken to a page where you can see all of your recently submitted imports.





The status column on this page will tell you what the status is for your import. If the import is still being reviewed by our import specialists then the "Status" column will have "Import is being manually reviewed" next to the import that was submitted.





If the import is rejected then the "Status" column will read as "No leads were added" and it will also have an explanation as to why the import was rejected. Below you can an example of a message that would appear if an import is rejected for not providing enough information about where the subscribers came from.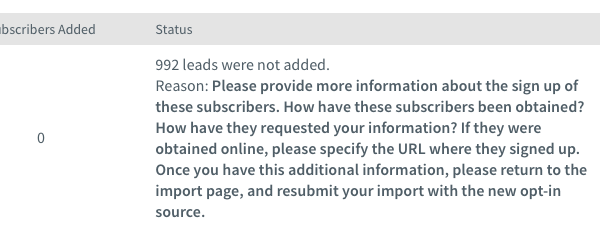 If the import is approved, but some subscribers were not added you will see a "Breakdown" link in the "Status" column. Click on this link to see detailed information as to why those subscribers were not added.





If the import is approved and there are no bad addresses then the "Status" column will just have "0 bad addresses" written in it.



Is There A Limit To The Amount Of Subscribers I Can Import?
The limit for the amount of subscribers you can import into your account without having a manual review is 10,000 subscribers per month. If you ever need to increase this limit to import more than 10,000 subscribers per month without going to a manual review first, please contact our support team and we would be happy to review this request for you.