Why am I not receiving any opens?
The manner in which an open is tracked is by subscribers viewing your HTML message with images enabled on their email client. When you send messages via AWeber, we will automatically embed an invisible 1x1 pixel in your message that, when enabled, would register as the subscriber opening the message.
Certain email clients such as Gmail, will automatically enable images when subscribers open the messages. Other clients may require subscribers viewing the message to "Enable" or "Display" images before they are available in the HTML message. In order for a report to register as an "open", if the email client does not automatically enable images, the subscriber would need to select the enable option provided.
How do I ensure that my messages are sent as HTML?
When you create a broadcast or campaign, we provide different message editors before you create your message. To ensure you're creating an HTML message, hover over the down arrow on the green button to create your message, and choose "Drag & Drop Email Builder".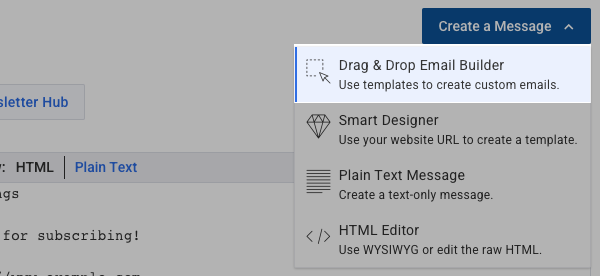 Note: If you choose the option for "Code Your Own HTML", opens would track in the same manner as they would with the "Drag & Drop Email Builder". We will automatically embed the invisible 1x1 pixel into your message to track the open.
I'd rather not use a template, how do I just use text?
With plain text only messages, the only way an open can be tracked would be if the subscriber clicks a link in the message and you have click tracking turned on. This is known as an inferred open. Luckily, you can create an HTML message and load the "Plain" template so your message appears as just a plain text message and you'll receive the reporting benefits of sending an HTML message.