How do I integrate Shopify with AWeber?
Through our integration with Shopify you'll be able to sell your products online, and have those customers added to your AWeber mailing lists. This is a great way to provide content to your customers based on a purchase, and start monetizing your email list.
Using our Shopify integration you'll have the ability to:
Add customers who make a Shopify payment to any of your lists.
Add a tag to a new or existing subscriber based on the product that was purchased, or simply based on any purchase that was completed.
Set up Cart Abandonment campaigns with your Shopify customers.
View Shopify purchases automatically through built-in

Sales Tracking.
Note: Your store will need to be set up and live for the integration to connect.
Step By Step Instructions
First, click on "Integrations" within the Vertical Navigation menu. Select "Available Integrations" and search for "Shopify." Click on the Shopify logo.



You'll be prompted to enter your Shopify domain in the "Shopify store URL" section.



If you're having trouble finding this URL, log into your Shopify account, then copy the first part of the URL (up to and including the ".myshopify.com") from your browser. Click the "Connect Integration" button once you've entered the correct URL.


You'll now be redirected to your Shopify account, where you may be asked to log in.



After logging in, you'll see a confirmation page asking you if you'd like to install the "AWeber Add Subscriber" app. Click Install to continue.




At this point, you'll be sent back to your AWeber account. There you can choose which list your customers will be added to from the "List" dropdown menu, and specify any tags that you'd like appended to customers who purchase any product from your store.




You will also have to inform, or at least provide the option, for subscribers to either be added to your AWeber list or not. To make sure that option is available, you'll first go to the Settings section of your Shopify account and then select "Checkout."




Next, scroll down the page and locate the "Consent for Marketing" section. Make sure you select "Show an option to subscribe at checkout" AND "Preselect the sign-up option" is checked. This will ensure your customers have the ability to opt-in to your AWeber emails.




If any changes are made, be sure to click "Save" at the bottom of the page. And you're done! Your Shopify customers will now be automatically added to the list you've chosen.

Note: While purchasing your product, if a subscriber un-checks the box "Keep me up to date on news and exclusive offers", they will NOT be added to your AWeber list after their purchase is complete.




If you'd like to have customers added to different lists based on the product they buy, check the "Advanced Settings" box below the "Purchases" section, then select the product in question and the list you want customers to join. You can also specify any tags that you would like appended to subscribers who purchase this specific product. Finally, click the "Add automation" button.



Note: these advanced settings are not accessible on the AWeber Free plan. Upgrade your account to unlock this feature and many more by clicking here, or by contacting our Customer Solutions team.

Further instructions on how to upgrade your account if needed can be found here.
You can also configure Cart Abandonment functionality as well through this integration.


Shopify Sales Tracking
Purchases made through the Shopify Integration will automatically be included in Sales Tracking. The sales will display on the Dashboard Sales Widget, Subscriber Information and in Reports.
Sales data displays in a buyer's Subscriber Activity under the Subscribers tab.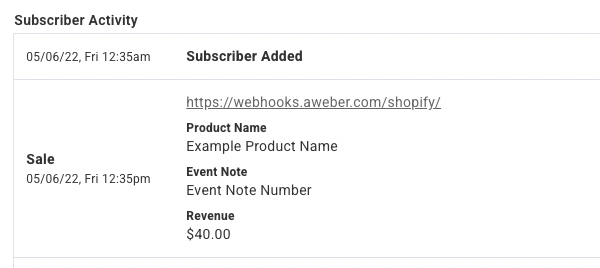 You can also view sales made via Shopify in the Reports tab under Sales over time.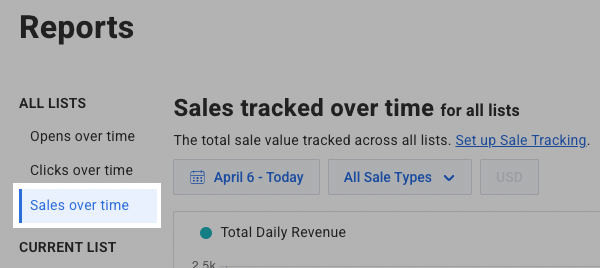 A breakdown of each sale displays below the Sales tracked over time graph. The sales type will read as Ecommerce along with any sales made using Landing Pages.


Note: Only sales made after the implementation of this feature on May 6, 2022, will appear under sales tracking.
Please Note
Only one Shopify account can be integrated with your AWeber account.
Shopify may take up to 2 hours to report new customers to your AWeber account, so do not be alarmed if you experience a delay in customers being added to your list or in tags being appended to existing subscribers.