How do I integrate Cyfe with AWeber?
Cyfe is a service that allows you to aggregate various sources of data into one easy-to-access dashboard. So on one dashboard you can monitor information from various services for social media, analytics, marketing, sales, support, and infrastructure.
The AWeber integration with Cyfe allows you to monitor statistics related to messages that you send out. You can view the following statistics in an easy to read widget in Cyfe:
# of subscribers sent to.
# of subscribers that opened the message.
# of subscribers that unsubscribed through the message.
# of times links were clicked in the message.
# of subscribers that marked the message as spam.
Step By Step Instructions
Within Cyfe, click on the "Add Widget" icon at the top of the page.




In the menu that pops over the page, click "Email" and select AWeber from the available email integrations.




A placeholder for the AWeber widget will appear on your Cyfe dashboard. Click the "Configure Widget" button.




Next, click "Add Account."



You will have to allow Cyfe to access your AWeber account information, including your lists, messages, and subscribers. Enter your login credentials and click "Allow Access."




Once the integration is connected, select the list and specific message that you want to view.


And that's it! You will be taken back to your Cyfe dashboard where you can see the statistics for the message you selected.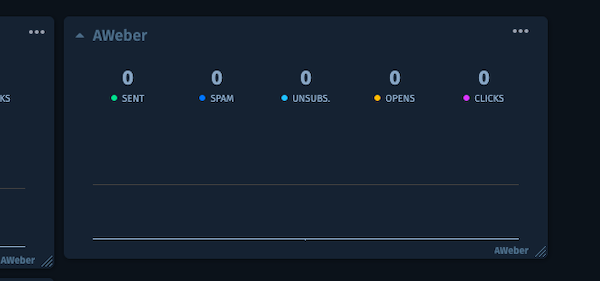 Note: You can add the AWeber widget to your Cyfe dashboard as many times as you like. That way you can track statistics for multiple messages sent from your AWeber account!