How do I get my integration featured on the "Integrations Showcase?"
Using an integration with AWeber is an AWesome way to help your customers stay connected with their subscribers using AWeber's service. In addition, AWeber will create an article in our knowledge base to help users set up your integration! If you're interested in developing an integration with AWeber or already have an integration created, this article explains how you can get your integration featured on AWeber's Integrations Showcase.
Your integration will be visible on every AWeber customer's "Integrations" page from within their account.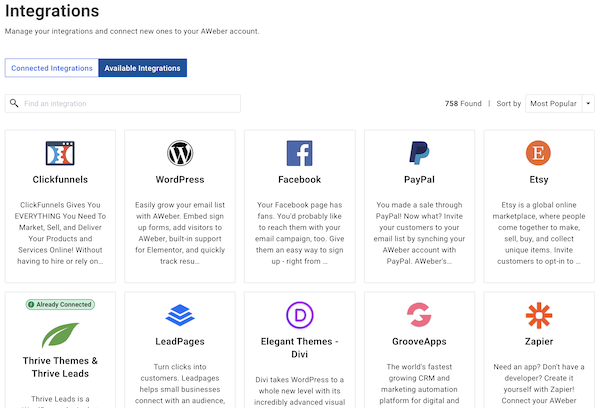 Your integration will also be shown on AWeber's public integrations page for potential new users to view!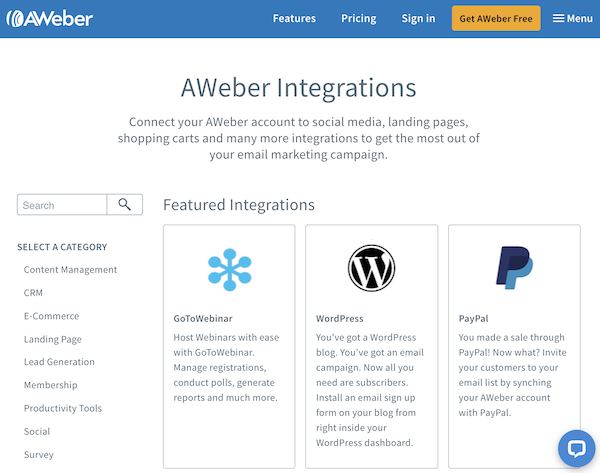 What do I need to showcase my integration?
From within your AWeber Labs account, ensure your integration's details are complete. Click "edit" on the relevant integration in Labs to add this information. Make sure you include all of the following:
Integration Name (Before providing your integration's name, be sure to review our API Terms of Service)
Author Name
Detailed description that accurately describes what the integration does
Website URL where someone can find specific information about using the integration
Logo (125 x 94 pixels, white/transparent background, just the logo only)
In addition, when you submit a request you will need to provide the following information:
The email address on your Labs / Developer account
A link to your privacy policy
A free test account to your service (if applicable)
A video demonstrating how your integration works (optional)
If you will be referencing AWeber on your website or within your integration, please take a look at and follow our Brand Usage Guide.
Once you have all of that information gathered and your integration is all set up and ready to go, please fill out the following form to submit your request to be added to our showcase.
What if I need to update my showcased integration?
If you have an integration that is already in our showcase and you decide you want to make changes or update the integration's information you can resubmit the form as you would if you were submitting a new integration. You don't need to do this if you're updating the code on your side, only resubmit if you want to make changes to your integration's name, description, logo, author, etc.
Once you have your changes ready to go please submit the following form and we'll process your updates for you.
What kinds of integrations will AWeber showcase?
What kinds of integrations will not be showcased?
Affiliate Marketing Programs
Multi-Level Marketing (MLM) Programs
Marketing Agencies
Digital Currency / Cryptocurrency
Professional Services