How do I use the On Subscribe trigger with Campaigns?
There are a few options for how to trigger your campaign using Campaigns. In this article, we will walk through the options for the On Subscribe trigger. There are a few different settings, so we'll walk through how each of them function in your list.
Step By Step Instructions
When you create a new campaign, select the trigger for On Subscribe.


The system will add "Trigger campaign for all subscribers" as the default setting.


You can update this under the Settings section in the right hand sidebar.



Under Select option, you have the choice of Source, Ad Tracking, and Country. The Country option is based on your subscriber's IP address.


Source
If you select Source from that drop down menu, there are five different ways to designate which subscribers are added to this campaign.
API
This option will trigger the campaign to start whenever a subscriber is added through the API. If a subscribers was added through PayPal, for example, you could start them on a specific campaign.
Import
This option will trigger a campaign whenever subscribers are Imported into your list.
Webform
If your subscribers are joining the list through a Sign Up Form, you would select this option to trigger the campaign.
Ad Tracking
You can differentiate the forms in your list by assigning a specific Ad Tracking value to them. This is a great way to split test your forms and add people to specific campaigns based on the form they sign up through.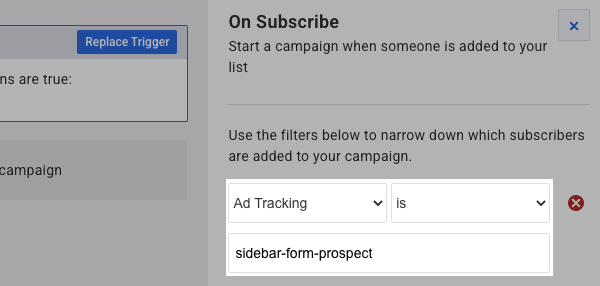 Country
AWeber will capture the country information from your subscriber's IP Address when they sign up through a form you created in AWeber. If you would like to have a specific campaign for country of origin, you can select this option.