Can subscribers sign up again to have additional Tags applied?
Subscribers will be able to sign up multiple times to the same list using your sign up forms. Each time subscribers sign up for a list they're already subscribed to, any new tags you've added to the form(s) since their previous submission will be applied. These updated tags can be useful to trigger your Campaigns. Keep in mind that as the subscriber is already on your list, their "Subscriber Information" will not be updated.
Note: since subscribers can sign up multiple times to the same list using your form(s), you can set an already subscribed page that is specific to people signing up another time.
Tags with custom fields
Updating tags based on Custom Field selections will also be applied to subscribers who re-sign up for your list. For example, let's say your list provides options for how to care for pets, and there are four different pets your list focuses on.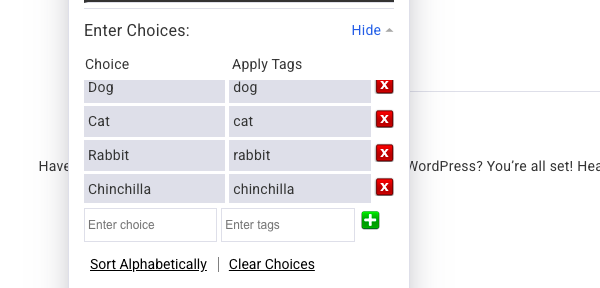 You would be able to create a custom field for each specific pet and set up a Campaign to be triggered when each tag is applied. If subscribers go to your list and want to receive more information about dogs, they have the option to select that from your sign up form.

Or, subscribers can sign up to receive more information on caring for chinchillas, rabbits, or cats.

Depending on the selection subscribers make, they will receive a different Campaign based on your Campaign triggers.

You're all set! You can now set up multiple Campaigns to be triggered based on the information subscribers input into your Sign Up Form. If subscribers sign up to the list more than once, they'll receive information based on the specific tags applied to them.