AWeber's Campaign feature already gives you the ability to create multiple series of messages unique to your mailing list. You now have the ability to create a copy of an existing Campaign within a list, which will include the Campaign trigger, messages, wait intervals, engagement automations, and tag applications. You'll no longer need to start from scratch when duplicating a Campaign!
In this article, we will detail how to create a copy of an existing Campaign in a list.
Copying Your Campaign
First, go to your Campaigns page on the list that contains the Campaign you'd like to copy.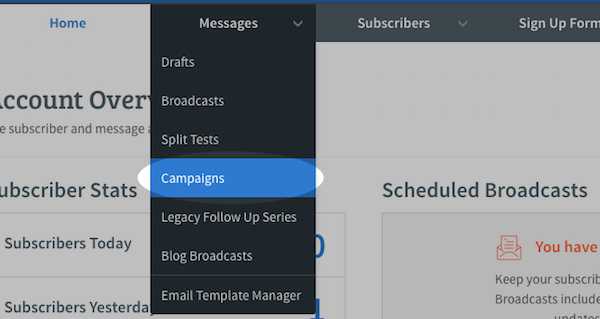 Then, select the Copy button associated with the Campaign you'd like to copy.

In the menu that appears, select the "Copy" button. If you do not want to create a copy of the selected Campaign, click "Cancel".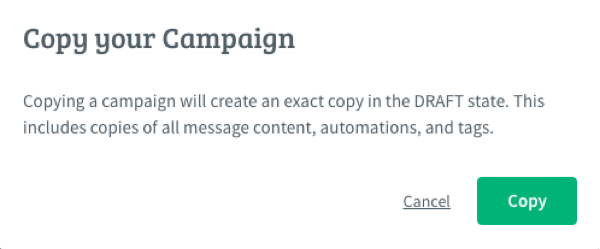 After copying your Campaign, you'll see a new Campaign created which will be titled, "Copy of (Campaign Name Here)". For example, the Campaign we copied earlier was titled "Campaign 1", so the copy will be titled, "Copy of Campaign 1". This Campaign will be an exact copy of your selected Campaign, aside from the name. For instructions on how to change the name of your copied Campaign, take a look at this Knowledge Base article. 
After editing the name of your copied Campaign, you'll need to activate it before it can be sent to your subscribers. To do so, select the "Draft" button and choose "Activate Campaign" in the dropdown menu that appears.

Note: You have the ability to delete a copied Campaign before it is activated. Once the Campaign is activated, you are no longer able to delete it. To delete your copied Campaign, click the "Delete" button, found under the name of your Campaign.

Congratulations! You just copied your Campaign! Changes to the copied Campaign will not be applied to any other Campaigns. 
Does copying a Campaign also copy the open and click stats for the messages it contains?
No. The messages in a copied Campaign are new messages, so there will not be any stats associated with those messages.