How do I set up DKIM records for my domain?
In order to ensure industry leading deliverability, AWeber authenticates all messages we send for our users automatically. While AWeber does basic authentication for you automatically, it is a best practice to also authenticate your own domain name to build the best email sending reputation possible.

We recommend creating custom DKIM records through your domain provider as those records tell the world that the emails you send from AWeber are valid and authorized. In this article, we will cover how to create these custom records, and how to ensure they are configured properly.

For more information on the standards that affect the deliverability of email messages, review our complete article on email authentication.
Verify your domain in AWeber
Visit the "Domains and Addresses" page found under your account settings.

Enter your From Address in the "Email Addresses" section and click "Send verification."





A message will pop over the page telling you to check your inbox. Click "Done" to continue.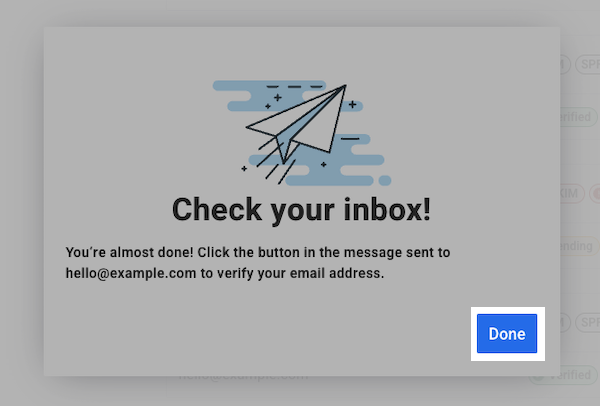 You will now see your domain and From address on the account settings page. If your email address still needs to be verified, it will be listed as "pending."





You will receive an email from help@aweber.com asking you to verify your email address. Click the button to complete the process.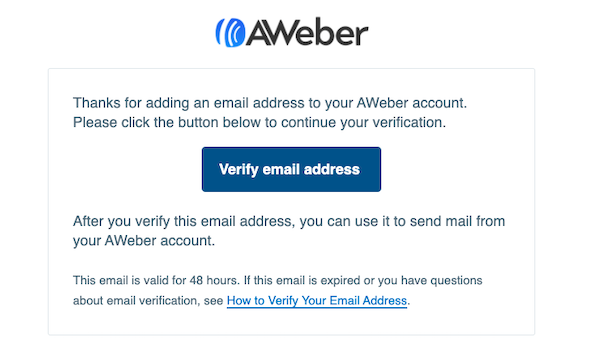 Your domain is now verified!
Next, set up DKIM for your domain
If you are using IONOS by 1&1, Cloudflare, GoDaddy, or Google Domains; we can set up your custom DKIM for you! Click "Connect Email Domain" to begin.


When you click "Connect Automatically" you will be redirected to your domain provider.

Click "Connect" to allow AWeber to add the DNS records.

After the records have been added, you should see that Custom DKIM has been successfully set up!

Setup Instructions
If you are not using IONOS by 1&1, Cloudflare, GoDaddy, or Google Domains, you will need to add the DNS records manually. First, login to your domain provider's website to create DNS entries. Instructions on how to edit DNS records for several popular providers are listed below for your convenience:
Add three CNAME records to setup DKIM
Click the "Setup Instructions" button. Follow along the instructions to add three CNAME records to setup DKIM.



Create three new CNAME records with the following information:

Please note: replace example.com with your domain. Depending on your domain provider, you may or may not need to include your domain in the host name. Consult your domain provider for this information.
Record Type
Name
Value
TTL
CNAME

aweber_key_a

._domainkey

.example.com
aweber_key_a.send.aweber.com
Default
CNAME

aweber_key_b._domainkey.

example.com
aweber_key_b.send.aweber.com
Default
CNAME

aweber_key_c._domainkey.

example.com
aweber_key_c.send.aweber.com
Default

Why does AWeber ask you to create three CNAME records while other platforms only ask you to create one? To keep up with best practices, we rotate DKIM keys periodically to make sure they stay secure. Having three records allows us to do this rotation automatically without any action by yourself. Other platforms don't rotate their DKIM keys which can cause lower email deliverability.
Verify your DNS records
Once your records have been published, your domain will appear in AWeber as fully authenticated as seen on the Domains & Addresses page in Account Settings. Mail sent from AWeber for that email address will now be signed automatically with DKIM.

Note, if your domain isn't authenticating after setting up your DNS records properly, you may simply need to wait up to 48 hours for servers to see those changes.