Getting Started with AMP for Email in AWeber
AWeber enables customers to send powerful email messages that engage subscribers through interactive and dynamic content. Email has been historically static, meaning once an email is delivered to your inbox it is not changed or updated in any capacity. Accelerated Mobile Pages, or AMP, changes that.
Here, we can see an AMP powered yes/no poll within an email. These results are displayed in real time, and reflect the responses of others that have previously engaged with it, even after the email has been delivered into your inbox.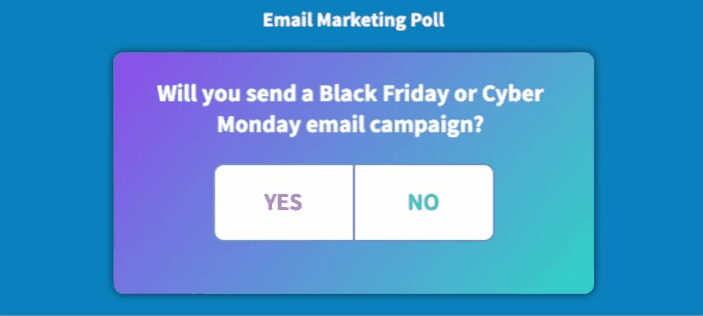 Prior to sending email with AMP content, there are a few things you need to do to get started. This article contains several educational resources and instructions regarding getting started with AMP.
Set up Custom DKIM Records with Your DNS Provider
Part of AMP's security specification requires all emails being sent with AMP content pass DKIM validation checks. In order to send AMP content with AWeber, you need to configure custom DKIM records for the domain you are using with your AWeber account. Follow this guide to set up DKIM records for your domain.
Once you do so, you'll be able to include awesome content in your emails, like our Image Carousel.
Register with mailbox providers to Send Dynamic Emails
Because AWeber is registered on Yahoo's trusted sender list, your customers with a Yahoo email address will be able to receive AMP emails. This eliminates the need for you to individually register your sender address, making it easier to send and receive AMP emails. You do still need to send from a custom domain and connect it to AWeber.
However, you currently still need to register your sender email address in order to send AMP messages to subscribers using Gmail and Mail.ru. One registration form will get you registered, making the process a little easier.
While you are awaiting approval, you can still send AMP mail to yourself using the AMP Email Playground.
Note: When sending to a Yahoo email address, the option for Dynamic Messages must be turned on.
More about AMP and AWeber
The AWeber team is working to get AMP for Email integrated directly in your AWeber account. For now, please follow the steps above to add AMP components to your AWeber broadcasts. If you have any questions, contact our Customer Solutions team. We're happy to help!
We also have supporting articles that detail other AMP related features that are currently available within your AWeber account, such as previewing your AMP content before sending a message, adding an animated image carousel into your message, and adding your own AMP HTML through our message editor.
Learn More about AMP for Email
AWeber is the first small business email service provider to support the new AMP for Email technology. Our mission is to create powerfully-simple email marketing solutions that accelerate the growth of your business. Sign up for a free trial today, and get a fully-equipped AWeber account to use.
Want a deep dive into what you can do with AWeber and AMP for Email? Watch a playback of our webinar where AWeber's Technical Product Manager Dave Stys and Senior Content Marketing Specialist Liz Willits give you a demo of the technology, show you awesome ways to use AMP in email, and answer all your questions.
The best way to start experiencing AMP is to jump in and try it out. There are plenty of resources and examples that will help you create your first AMP email. Here is what we recommend you use to get started.
AMP for Email Developer's Site
Explains exactly what AMP is and why it's exciting. You'll be motivated to create your very own AMP emails once you're finished reading.
Create your first AMP Email
Follow this tutorial to build your first AMP email message. You'll get hands on experience with some dynamic content, such as image carousels.
Add an AMP-Powered Image Carousel to Your Message
AWeber has added one of the most popular AMP for Email features — an image carousel — to our drag-and-drop email editor. A carousel is an interactive element that rotates through multiple slides of images. You can include photos, GIFs, blog posts, or products. As an AWeber customer, all you need to do is click the carousel element in the tool box and drag it into your email. Then, add up to 6 images. Learn how to add a carousel to your message.
Explore AMP for Email Components
Here you will discover the set of AMP components that are supported in email. This documentation not only gives you information about how to use each of these components, it also provides several working examples so that you can quickly learn how to include them in your email.
AMP Email Playground
The AMP Email playground is a great resource for testing your AMP email content. The playground will let you know if your AMP markup is valid, or if you need to resolve an issue. It also provides a realtime preview of your email as you modify your code.

If you need any assistance or have any questions, don't hesitate to connect with one of our email experts. Our Customer Solutions team is standing by to help.
Phone
Available Monday - Friday from 8:00AM - 8:00PM ET
Toll Free (Within USA): 1-877-293-2371
International: +001 215-825-2196
Note: Saturday to Sunday we are available for Live Chat and Email support.


Ticket Support
Available 24 hours a day, 7 days a week.

Online Live Chat
Monday - Friday 7:00AM ET - 10:00PM ET
Saturday 8:00AM ET to 5:00PM ET
Sunday 8:00AM ET to 5:00PM ET