Getting Started with AMP for Email in AWeber
AWeber empowers customers to create engaging email messages through the use of interactive and dynamic content. Traditional email has been static, lacking the ability to update or change once delivered. With Accelerated Mobile Pages (AMP) for Email, AWeber introduces a transformative feature that allows for interactive and real-time content within emails.
Here, we can see an AMP-powered yes/no poll within an email. These results are displayed in real time and reflect the responses of others who have previously engaged with it, even after the email has been delivered to your inbox.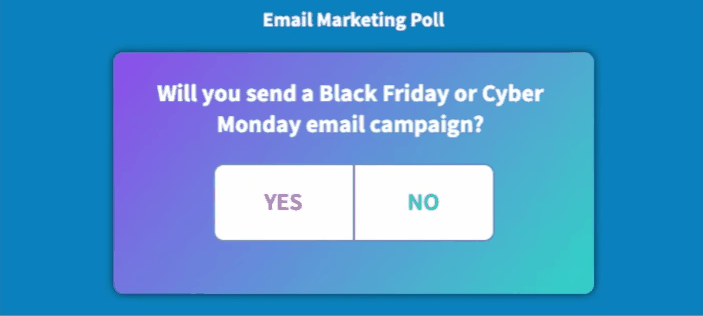 Before you can send emails with AMP content, there are a few necessary steps to get started. This article provides a comprehensive guide, including educational resources and instructions, to help you begin your journey with AMP.
Set Up Custom DKIM Records With Your DNS Provider
To ensure the security and validity of AMP content in your emails, it is required to configure custom DomainKeys Identified Mail (DKIM) records for the domain associated with your AWeber account. These records are necessary for passing DKIM validation checks. Refer to the guide on setting up DKIM records for your domain to ensure seamless integration of AMP content in your emails.
Once you have completed these steps, you'll unlock the ability to include captivating content in your emails, such as our Image Carousel feature.
Register With Mailbox Providers To Send Dynamic Emails
Email clients require sender registration to display AMP emails to users. Email clients require sender registration to ensure the secure and trusted delivery of AMP emails to users' inboxes. By adhering to the registration process and meeting the requirements set by email clients, you can unlock the full potential of AMP for Email and create impactful and engaging email campaigns.
AWeber is registered on Yahoo's trusted sender list, enabling customers with Yahoo email addresses to receive AMP emails without individual registration. This streamlines the process of sending and receiving AMP emails.
It is important to note that registration is still required for sending AMP messages to subscribers using Verizon Media, Gmail, and Mail.ru. The registration process ensures compliance and facilitates the successful delivery of AMP emails. Thankfully, the registration process has been simplified to a single registration form, making it more convenient for you. The email client (Verizon Media, Gmail, and Mail.ru) aim to respond to most requests within 5 working days.
While you are awaiting approval, you can still send AMP mail to yourself and test its functionality using the AMP Email Playground.
Note: Dynamic Messages must be turned on when sending to Yahoo email addresses.
AMP and AWeber
The AWeber team is actively working to integrate AMP for Email directly into your AWeber account. While this development is underway, you can follow the steps mentioned above to add AMP components to your AWeber broadcasts. If you have any questions or need assistance, our Customer Solutions team is ready to support you.
We offer supporting articles that explore other AMP-related features currently available in your AWeber account. These features include previewing your AMP content before sending a message, incorporating an animated image carousel into your emails, and leveraging AMP HTML by using our message editor.
Learn More about AMP for Email
As the first small business email service provider to support AMP for Email, AWeber remains committed to providing powerfully-simple email marketing solutions that accelerate the growth of your business. Create an AWeber Free account today to start exploring the possibilities of AMP for Email.
Want a deep dive into what you can do with AWeber and AMP for Email? Watch a playback of our webinar where AWeber's Technical Product Manager Dave Stys and Senior Content Marketing Specialist Liz Willits give you a demo of the technology, show you awesome ways to use AMP in email, and answer all your questions.
The best way to start experiencing AMP is to jump in and try it out. There are abundant resources and examples available to assist you in creating your first AMP email. Here are the recommended tools and materials to help you get started.
AMP for Email Developer's Site
Visit the official AMP for Email developer's site, where you can learn more about AMP, its exciting features, and the benefits it brings to email experiences.
After reading these materials, you'll be inspired and motivated to create your own unique AMP emails.
Create Your First AMP Email
Follow a tutorial that guides you through building your first AMP email, allowing you to gain hands-on experience with dynamic content, such as image carousels.
Add an AMP-Powered Image Carousel to Your Message
AWeber's drag-and-drop email editor includes the option to add an image carousel, a popular AMP for Email feature.
A carousel is an engaging element that allows for seamless rotation between multiple slides of images. With this feature, you can include captivating visuals such as photos, GIFs, blog posts, or products.
As an AWeber customer, incorporating a carousel into your email is effortless. Then, you can easily add up to 6 images to create an immersive experience for your readers. Learn how to utilize this interactive element by following our step-by-step guide.
Explore AMP for Email Components
Discover the range of AMP components supported in email and learn how to incorporate them into your email campaigns. This documentation provides detailed information on usage and offers helpful examples so you can quickly learn how to seamlessly incorporate AMP components and elevate the interactivity and functionality of your emails.
AMP Email Playground
Utilize the AMP Email Playground as a valuable testing resource for your AMP email content. It verifies the validity of your AMP markup, highlights any issues that need resolution, and provides real-time previews of your email as you modify your code.
For any further assistance or inquiries, feel free to connect with our email experts. Our dedicated Customer Solutions team is readily available to provide support.
Phone
Available Monday - Friday from 8:00AM - 8:00PM ET
Toll Free (Within USA): 1-877-293-2371
International: +001 215-825-2196
Note: Saturday to Sunday we are available for Live Chat and Email support.
Ticket Support
Available 24 hours a day, 7 days a week.
Online Live Chat
Monday - Friday 7:00AM ET - 10:00PM ET
Saturday 8:00AM ET to 5:00PM ET
Sunday 8:00AM ET to 5:00PM ET