AWeber enables customers to send powerful email messages that engage subscribers through interactive and dynamic content. However, there are a few things you need to do to get started. This article outlines how to create and send an email with AMP content using your AWeber account, and several educational resources and instructions regarding AMP.
AWeber is the first small business email service provider to support the new AMP for Email technology. Our mission is to create powerfully-simple email marketing solutions that accelerate the growth of your business. Sign up for a free trial today, and get a fully-equipped AWeber account to use.
Want a deep dive into what you can do with AWeber and AMP for Email? Watch a playback of our webinar where AWeber's Technical Product Manager Dave Stys and Senior Content Marketing Specialist Liz Willits give you a demo of the technology, show you awesome ways to use AMP in email, and answer all your questions.
AMP provides the ability to include dynamic content in your emails. Here, we can see an AMP powered yes/no poll. These results are displayed in real time, and reflect the responses of others that have engaged with it.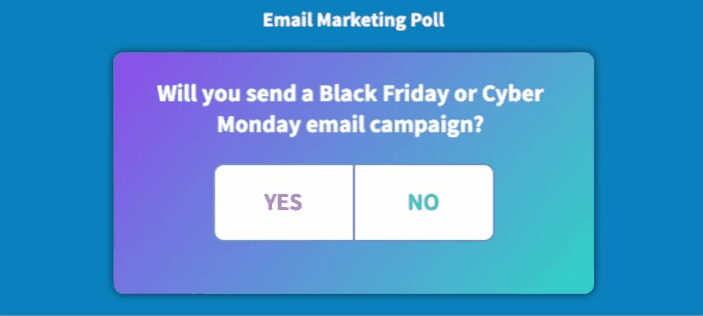 Create an AMP Email Broadcast with AWeber
AMP for Email is new and currently available to Gmail, Outlook.com, and Mail.ru users but it is not yet supported in all email clients. However, Yahoo! mail is planning to support AMP for Email in the future.
To get started, you will first need to set up DKIM and SPF records with your DNS provider, and then register with Google to become an approved sender of AMP content. Once this is done, you will be able to use the AWeber API to create and send an interactive broadcast message to your subscribers.
Set up Custom DKIM and SPF Records with Your DNS Provider
Part of AMP's security specification requires all emails being sent with AMP content pass DKIM and SPF validation checks. In order to send AMP content with AWeber, you need to configure custom DKIM and SPF records for the domain you are using with your AWeber account. Follow this guide to set up DKIM and SPF records for your domain.
Register with Google to Send Dynamic Emails
https://developers.google.com/gmail/ampemail/register
Next, you need to register with Google to become an approved sender of AMP content. While you are awaiting approval, you can still send AMP mail to yourself using the AMP Email Playground.
Prepare Three Versions of Your Email
Because not all email clients support AMP today, your broadcast message needs to contain alternative message formats. As a result you will need to prepare your message as:
Plain-Text
AMP-HTML
HTML
Use the AWeber API to Create a Broadcast with AMP Content
In order to create an AMP broadcast, you need to create a developer account and use our developer API. The Create-broadcast endpoint has been updated so that you may now specify the AMP version of your email as well as the HTML and Plain-Text versions. The documentation and sample code for creating a broadcast using the API is available here. After creating your AMP broadcast, login to your AWeber account and send yourself a test. Or, schedule the broadcast to be sent to your subscribers.
More about AMP and AWeber
The AWeber team is working to get AMP for Email integrated directly in your AWeber account. For now, please follow the steps above to add AMP components to your AWeber broadcasts. If you have any questions, contact our Customer Solutions team 24 hours a day, 7 days a week at our Pennsylvania HQ.
Learn More about AMP for Email
The best way to start experiencing AMP is to jump in and try it out. There are plenty of resources and examples that will help you create your first AMP email. Here is what we recommend you use to get started.
AMP for Email Developers Site
Explains exactly what AMP is and why it's exciting. You'll be motivated to create your very own AMP emails once you're finished reading.
Create your first AMP Email
https://amp.dev/documentation/guides-and-tutorials/start/create_email?format=email
Follow this tutorial to build your first AMP email message. You'll get hands on experience with some dynamic content, such as image carousels.
Explore AMP for Email Components
https://amp.dev/documentation/components/?format=email
Here you will discover the set of AMP components that are supported in email. This documentation not only gives you information about how to use each of these components, it also provides several working examples so that you can quickly learn how to include them in your email.
AMP Email Playground
https://amp.gmail.dev/playground/
The AMP Email playground (for Gmail) is a great resource for testing your AMP email content. The playground will let you know if your AMP markup is valid, or if you need to resolve an issue. It also provides a realtime preview of your email as you modify your code. You can also send your AMP email directly to your Gmail inbox to experience AMP first hand. (See "Test your AMP Emails in Gmail").
Need help with AWeber and AMP? Contact our Customer Solutions team 24 hours a day, 7 days a week at our Pennsylvania HQ.