AMP for Email is new and currently available to Gmail users, but it is not yet supported in all email clients. However, Yahoo! mail, Microsoft's Outlook.com, and Mail.Ru are planning to support AMP for Email in the future.
AMP provides the ability to include dynamic content in your emails. Here, we can see an example of an interactive feedback form.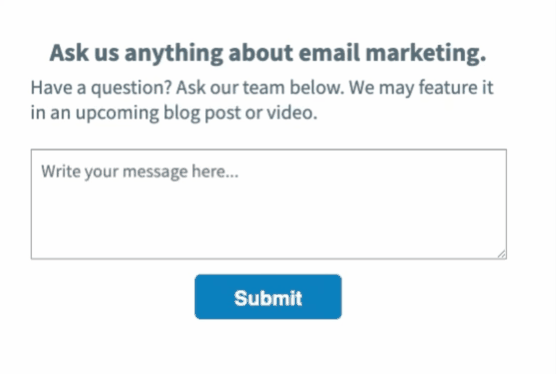 To get started, you will first need to set up DKIM and SPF records with your DNS provider, and then register with Google to become an approved sender of AMP content.
Set up Custom DKIM and SPF Records with Your DNS Provider
Part of AMP's security specification requires all emails being sent with AMP content pass DKIM and SPF validation checks. In order to send AMP content with AWeber, you need to configure custom DKIM and SPF records for the domain you are using with your AWeber account. Follow this guide to set up DKIM and SPF records for your domain.
Register with Google to Send Dynamic Emails
https://developers.google.com/gmail/ampemail/register
Next, you need to register with Google to become an approved sender of AMP content. While you are awaiting approval, you can still send AMP mail to yourself using the AMP Email Playground.
Create Two Versions of Your Email
Because not all email clients support AMP today, your broadcast message needs to contain alternative message formats. As a result you will need to prepare two versions of your message:
HTML
AMP-HTML
Please Note: In every case, you'll need to create your AWeber message completely within our message editor. This counts as the HTML version of your message. Additionally, you'll need to have the AMP-HTML version of your message ready as well. We do not currently validate your AMP for Email markup.
Adding AMP HTML to an AWeber HTML message
After creating a message, click the "AMP-HTML" button, found towards the bottom left corner of the AWeber message editor.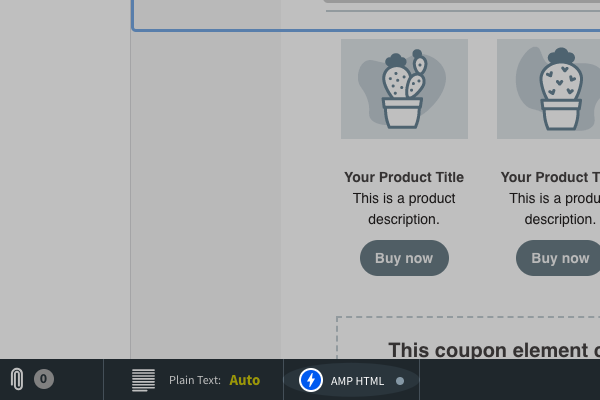 Paste your AMP-HTML markup into the window that appears. Doing so should look something like this.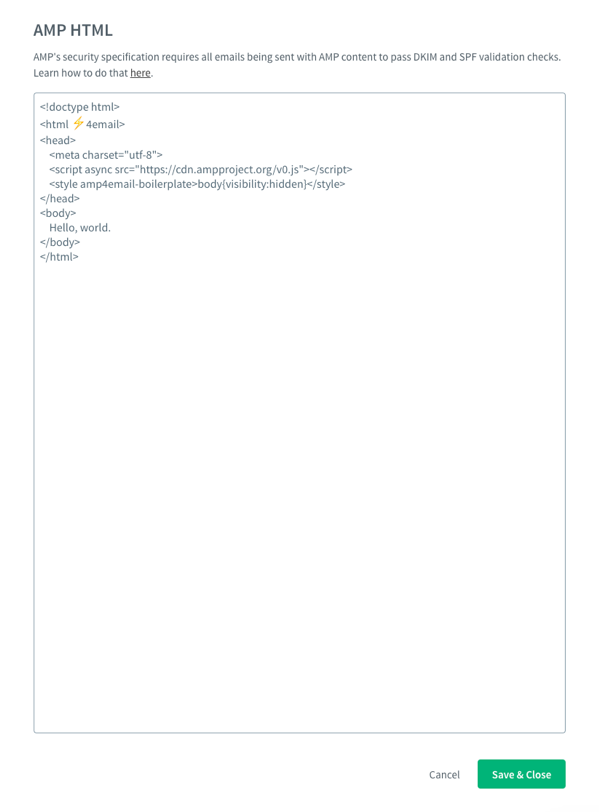 Then, click "Save & Close" at the bottom of the window. You won't see the AMP version of your message rendered within the message editor. However, you can send yourself a test message to an AMP-supported email before sending your message to your subscribers.