In this article, we explain the steps of adding an Image Carousel powered by AMP for email to your message.
AMP for Email is a powerful tool that can be used to send interactive and dynamic content to your subscribers. There are a few steps that need to be taken before you can include AMP content in your messages. For more information on how to enable the sending and receiving of emails containing AMP content, take a look at our Getting Started with AMP Knowledge Base article.
Once you have implemented those requirements, you can add your own custom code to your messages through our message editor, but you can also take advantage of the AWeber Image Carousel powered by AMP for email. An image carousel is a slideshow that allows subscribers to cycle through a series of up to 6 images per image carousel.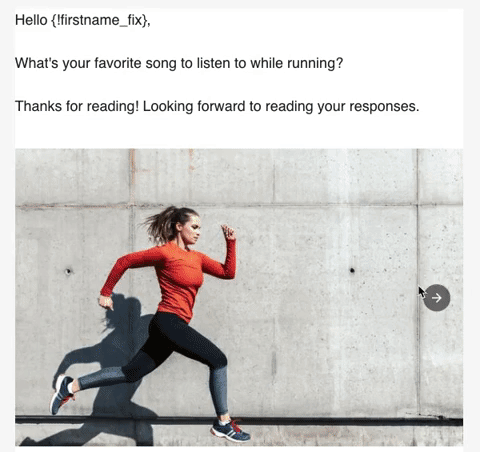 Watch a Video
Step By Step Instructions
After creating a new message using out Drag & Drop Email Builder, you will see the "Carousel" element on the left-hand side of the editor.


Click and drag the "Carousel" element to the body of your message.


Once you add the element to your message, you can customize the "Carousel" settings on the right-hand side of the editor. To add an image to a slide, you can drop the image directly into the gray placeholder box, upload an image from your device, or select an image from AWeber's image gallery.



You can also add an image by adding a hosted link to the "Image URL" field.


After you add the image to your first slide, you can add alt text to the "Image Alt Text" field.



You can also hyperlink the image to a specific URL by adding the link to the "Image Link" box.


Next, click the "Add Slide" button to add a new slide to the carousel.


Add your second image. You can designate this image to be the default by clicking the radio button above the image preview. The first slide will be the default image automatically, but whichever image you choose will display in email providers that do not support AMP.



To delete a slide, click the "Delete Slide" button.



To toggle between the slides, click the numbered tab that you would like to view.



And that's it! You have successfully added the carousel to your message. Now, you can preview how it will look.
Click the "Preview & Test" button from the top-right corner of the message editor.


Then, click the "AMP HTML preview" toggle.



Please note: Leaving the "AMP HTML preview" toggled off will show the HTML version of your message that displays in email clients that don't support AMP content.
You will now be able to view the slides and any other AMP content you have. Simply click the arrow button to navigate between the slides.


Congratulations, you have successfully added a carousel to your message!