A landing page is a webpage often used to promote a newsletter, offer a downloadable incentive, or promote a product or service. Landing pages are an excellent resource that you can use to help build your subscriber list. Using landing page, you can set your subscribers up to automatically receive Campaign messages or send them Broadcasts. Tracking how your audience got to your web pages and what they do once they get there provides very helpful information that can be used to refine your marketing efforts for the better.
Your landing page title, description, and social sharing image will display automatically when sharing your landing page URL on social media sites, like Facebook. It's important to make sure the Page Title and Page Description accurately describe the content on your landing page. In addition, search engines, like Google, will display the page title and description in search results. This can influence click-through rates to your website or landing page.
If you have yet to get started, we have instructions on how to create a landing page. In this article, we'll cover the settings you can configure for your landing page when shared on social media sites.
Sharing & SEO
These settings are accessed through the "Settings" button in the Page Properties section of the landing page builder.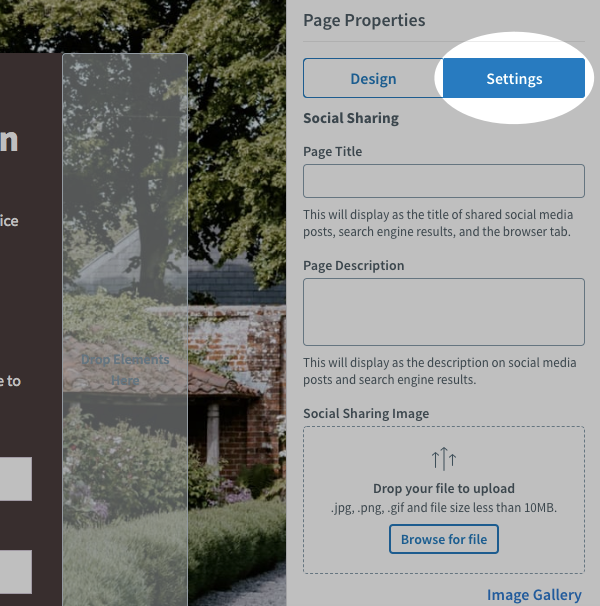 Your Page Title and Page Description should accurately describe the content on your page as they give viewers insight on what to expect if they click on your link to view the page. This content will not display on the landing page itself, but when sharing the URL within a social post. In tabbed browsers, the title is usually shown in the page tab, as shown in the image below.

This is not to be confused with the main heading of the page, which the user sees on the page itself.
Best Practices
Page Titles and Page Descriptions should be kept concise and clear. Page Titles should be less than 70 characters, while Page Descriptions should be less than 160 characters. Some sites might cut off some of the title or description, so try to write the most important and engaging information first. This information should entice the visitor want to click through to your page to learn more or sign up.
Social Sharing Image
Your Social Sharing Image is the image that will be displayed when sharing your URL within a social post. If you don't set an image, the social site you are sharing on may choose a random image from your page, or may not display an image at all.
Best Practices
Your image should represent the content on your landing page as accurately as possible. Make sure to check the social sites you will be posting your landing page to, as the image may look skewed depending on the size of the original image you upload in your AWeber account. You'll find options to browse your computer for a file to upload, or you can select an image from the Image Gallery.
After configuring these settings, your landing page will be displayed properly on social media sites, and will serve as an easy way to sign up for your mailing list!
Tracking
You can add your Google Analytics and Facebook Pixel tracking IDs to the "Tracking" section of your SEO & sharing settings. By adding your tracking IDs, you will get more performance stats from those services.