How do I change the thank you page for my landing page?
This article explains how to change your landing page thank you page by using AWeber's powerfully-simply builder.
When a person subscribes to your list using a landing page, they're directed to a page meant to encourage them to confirm their subscription (if the confirmation message is on) or notify them that their subscription is complete (if the confirmation message is off).
You may use AWeber's simple thank you page version, use a custom URL, or direct subscribers to no thank you page at all.
Step By Step Instructions
First, click "Pages & Forms" then the "Landing Pages" tab.




Then, click the name of the landing page you wish to edit.




While in the landing page builder, click on the name or email field of your form in the landing page, and select 'Submission' in the menu that appears on the righthand side of the editor.





Please note: you can also add tags to your form.


To change your thank you page, click the drop down menu and select one of the available options.




After entering a custom URL for your thank you page, you can also add a custom URL for your Already Subscribed Page if desired.


Once complete, click the "Save & Exit" button. For your changes to take effect on your published landing page, you must click the "Publish" button that will appear when hovering over "Unpublished Changes."


That's it! Now, you've successfully changed your thank you page for your landing page. Subscribers will be directed to the page you've indicated based on your landing page form's settings.
Why is my landing page not working?
Please be aware that some subscribers may report encountering the error message "Email Address is Not Valid" despite entering a valid email address.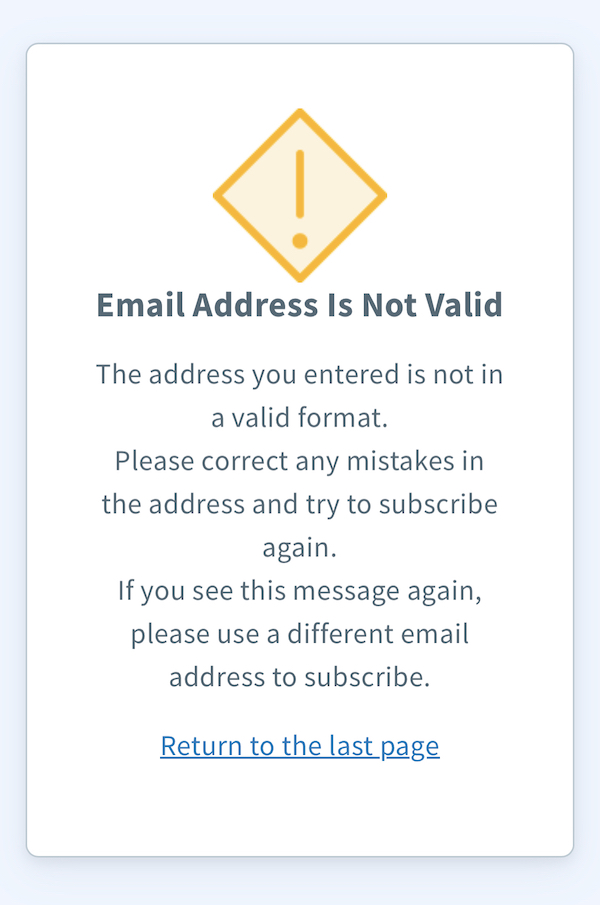 This issue may occur when sharing your landing page on social media platforms (like Facebook, Instagram, TikTok, etc.), as each of these platforms utilizes its own in-app browser. Due to the limitations of these in-app browsers, enabling the "Open this in a new window" option will cause the form to fail as the form action cannot be executed. This issue not only prevents subscriber data from being transmitted to AWeber but also generates an error message.
To resolve this issue, we recommend disabling the "Open this in a new window" option within your landing page settings. Alternatively, you can advise your subscribers to open the link using their mobile browser.