How do I use the Smart Content element on my landing page?
This article explains how to use the Smart Content element when creating your landing page with AWeber's powerfully-simple builder.
Landing pages are an excellent tool through which you can grow your email list and display content that you have created or found in an appealing way. By displaying content on your landing page, you'll find your scope of influence growing.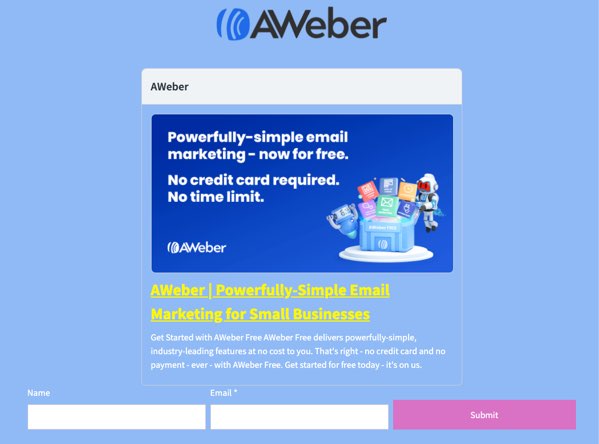 There are so many awesome ways you can use the Smart Content element to create an amazing landing page, and here are some top choices you can consider adding:
Video
Audio
Photos
Products
Other
That's not all! There are many more supported platforms that will work with this element, too.
Step by Step Instructions
After creating your landing page, drag the Smart Content element from the left side of the page onto the canvas where you'd like it to appear.


Once it has been placed, you will see a menu appear on the right with an empty text box where you can add a URL for the piece of content that you would like displayed.


After adding your URL, your content will be displayed in a dynamic, embedded card directly on your landing page.
After you have finished and are ready to share your creation, don't forget to publish your landing page.