What is the ideal format of an image?
When uploading an image to your message or landing page, you want to make sure to follow certain guidelines for the best performance in AWeber's editors and best display for your subscribers.
The file should be saved in a .jpg, .png, .gif format and the file should be less than 10MB in size. For landing pages, the width of the image should be between 1500 - 2500 pixels for the best display. For messages, 600 pixels is ideal for the message to look similar across all platforms and devices. If you use an AWeber template for your message, then the message will automatically be 600 pixels wide and images will be formatted to that width. If you're using the HTML editor, then you would have to code the message to be 600 pixels wide and edit your images using a third-party software.
Another important element of images is the aspect ratio. This is the width-to-height ratio of the image. Maintaining a consistent aspect ratio helps prevent the image from becoming distorted if you change the width or height. The aspect ratio for images in landing pages will be automatically consistent, but you can set the image to "Auto Width," meaning, the image will resize to fit the browser someone is using to view the page.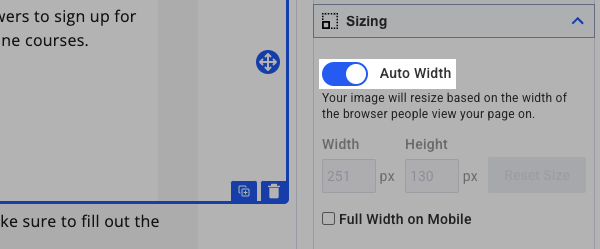 In the drag & drop editor, the "Maintain Aspect Ratio" box will automatically be checked. We recommend leaving that enabled to prevent the image from being distorted.

Overall, you don't want to use too many images on your landing pages. Using too many images in a landing page could cause loading issues on the browser. For messages, however, you want to maintain a decent image-to-text ratio. If the message is one large image, or multiple images and little text, then email providers may filter it. On the other hand, if the message is just text or a long chunk of text, it could be perceived as spam.