How do I add existing subscribers to my Campaign?
In this article, we are going to walk through the steps to trigger a campaign for subscribers who were added to the list before you created or activated it.

With campaigns, you can send automated messages at specific intervals to subscribers who sign up for your list. Campaigns are not retroactive at this time, meaning, once you create and activate the campaign, only new subscribers who sign up after you activate the campaign will receive those messages. If you have subscribers on your list who signed up before you activated the campaign, they will not trigger automatically; however, you can manually trigger the campaign using tags.
Step By Step Instructions
First, you will have to change the trigger of your campaign to a tag. Open the campaign editor and click "Replace Trigger."




Click "Tag Applied" in the box that pops over the page.




Add the tag you would like to use in the "Tag Applied" section on the right-hand side of the campaign editor. The tag can be whatever word or phrase you would like.



Please note: if the campaign is already set to trigger on a tag, you will have to add a brand new trigger tag in the "Tag Applied" section.




Once complete, click "Save & Exit" to save your changes.




Then, hover over the "Subscribers" tab and click "Subscribers" to access your subscriber data. If you have multiple subscribers that you would like to trigger, then click the checkbox next to the "Name" field to select them all.




After you select all of the subscribers, click the "Actions" button and select "Tag."




Add the trigger tag to the "Add Tags" section and click "Apply."




And that's it! Once the tag is applied, they will trigger the campaign. Depending on how many subscribers you are tagging, it may take a few moments. You can check the status of the tag action by clicking the "Subscriber Tools" button and selecting "Bulk Tag History."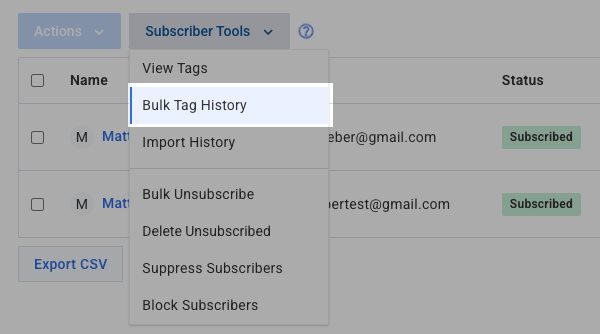 Once the tagging is complete, you can change the trigger back to "on subscribe" for the new subscribers added to your list going forward.