How do I Import Subscribers Without Sending Them My Campaign?
This article will describe how you can import your subscribers without sending them your campaign.

While using filters in your campaign, you can prevent anyone who is imported from receiving your campaign either permanently or temporarily.
Step By Step Instructions
Click "Automations" then "Campaigns" within your AWeber account, then click the edit button of the campaign you wish to prevent subscribers from starting on when importing them.




Click the trigger action or the 1st action in your campaign.




Click "Add filter"



Then setup your filter so that it says "Source is not Import."




Once you've setup your filter, click "Save & Exit." At this point you can now import your list of subscribers.
If you're only looking to do this temporarily, then once the import has been completed, you would want to go back into your campaign and click the black "x" next to the filter you just added to remove it.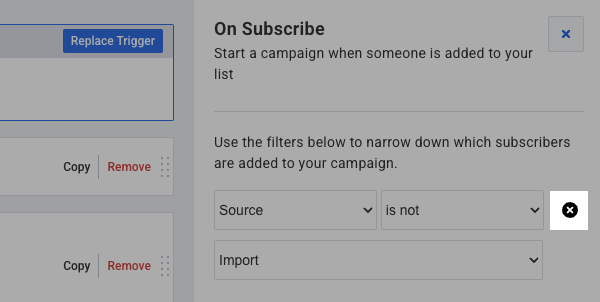 That's it, you've successfully setup a filter to prevent your campaign from sending to subscribers who are being imported.